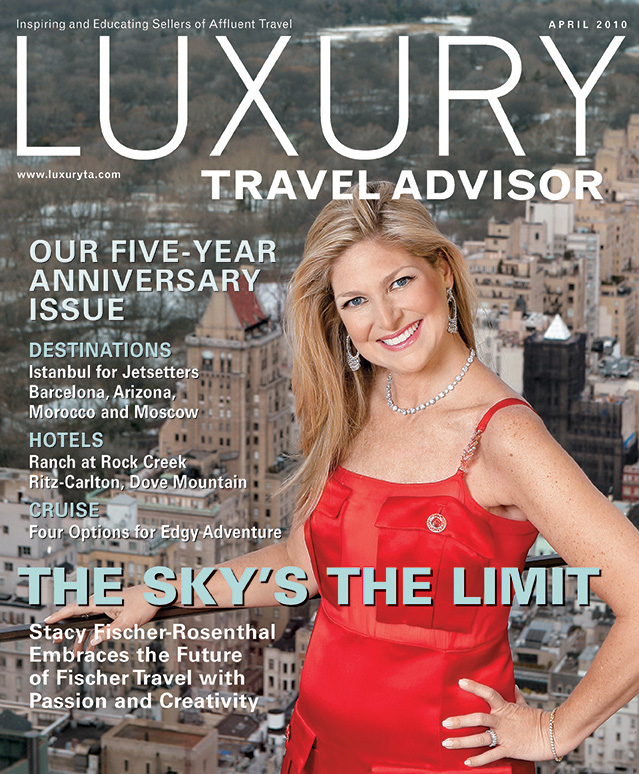 When Stacy Fischer-Rosenthal, the newly named president of Fischer Travel Enterprises, looks back over the 28 years she has worked in the family business, she recognizes a major shift in the company's M.O.
"We've become a lifestyle company; we help manage our clients' lives, including their travel requests," she tells Luxury Travel Advisor during our visit to Fischer's midtown Manhattan office.
That means on a day-to-day basis, the staff at Fischer Travel could be on the prowl to obtain a much sought-after pro golf instructor for a client who needs to repair his swing or to find that coveted Birkin bag for a VIP when the wait-list is 1,000 long. One recent task involved purchasing not only a Bentley convertible for a client but a BMW X5 as well.
Then there's the travel—and oh, such travel. The legendary Fischer Travel Enterprises concept is all about crafting over-the-top luxury experiences for the millionaires and billionaires of the world, the movers and shakers, bankers and fund managers; those celebrities seeking to travel under the radar and some enormously wealthy families who travel frequently and in grand style with their entourage of nannies, physicians, IT technicians and pets.
"Fischer Travel is similar to Hermès or Louis Vuitton, where it's really about being a lifestyle brand. We provide the highest level of service; it's about being able to obtain the unobtainable for these privileged people no matter what their request is, as long as it's legal. We are not here to judge," says Fischer-Rosenthal with a smile.
The company was founded by CEO Bill Fischer (Stacy's father), that dapper gentleman who will forever be known as the elite travel advisor with the unlisted phone number and who years ago—and years ahead of his time—moved away from selling packaged travel to selling only luxury travel. Along the way he adopted a very unconventional strategy of charging for his services to make magic happen.
What kind of magic, you ask? How about obtaining that unattainable villa during the height of the Christmas holidays? Or having lights installed at a remote island airport so his client could land his private jet at night? Or, perhaps, a VIP needed a suite, but it didn't exist at a particular hotel—that is until Bill got involved and walls started coming down to create roomier accommodations.
In many ways, the basic Fischer Travel business model hasn't changed since Bill began charging for his services. But it does cost a bit more these days. While just a few years ago the firm was generating a buzz because it charged an annual $5,000 service fee, paired with a one-time $20,000 initiation charge, in 2010, it costs $100,000 to become a client of Fischer Travel and another $25,000 annually to stay on (it remains $5,000 for existing clients).
The tradition of providing extreme travel services continues with daughter Stacy Fischer-Rosenthal, who has made her own imprint on Fischer Travel since joining the company right out of college. She picked up Bill's savvy business tenets and adapted well to his best practices of selling travel, the most notable being that no hotel is offered to a Fischer Travel client until someone on the staff has visited and fully vetted it.
However, through the years, she began bringing to the business a younger clientele, those of a generation that, in the age of online travel booking, might not typically even consider using the services of a travel consultant. For this ultra-affluent crowd, she has crafted some of the most creative, over-the-top travel experiences one could imagine.
The move in that direction came about 15 years ago when her husband, Richard (then her fiancé), started playing basketball with a group that included a guy who drove a fancy car. When he found out that Richard's girlfriend did high-end travel, he was intrigued. After all, he was about to fly via private jet to the south of France where he wanted to charter a yacht. Fischer-Rosenthal got the job done and the new client was quite pleased.
"That opened up a whole new market of clients who were in their thirties and who had never realized there was someone out there who handled travel like that," says Fischer-Rosenthal.
Word of such luxury service spread to a hedge fund manager in London who came to her with the sad tale that his plans to travel two weeks before Christmas with two children and a nanny had fallen through. If Fischer-Rosenthal could fix the problem, she would earn his loyalty. She secured an amazing vacation for him. He became (and remains) a loyal supporter and recommended her to colleagues in Japan, Turkey and France.
It didn't take the Fischers long to realize that this strata of clientele likes to celebrate landmark birthdays. No matter if they're turning 35 or 37, 40 or 50—they like to do it up big. Such celebrations have become Fischer-Rosenthal's trademark specialty—thinking out of the box to create special memories for them.
In one case, Fischer Travel took over a SeaDream vessel for a birthday bash. To evoke a private yacht vibe, they replaced all of the ship's artwork with personal photos of the client as well as his friends and family who were flying in from all over the world to celebrate. It gets better. Fischer Travel arranged for celebratory fireworks and when the ship sailed to Ibiza, the team took over entire nightclubs for the group. In St. Tropez, they secured a villa, had more than 100,000 roses flown in and arranged for synchronized swimmers to perform.
For such a spectacular event, Fischer-Rosenthal flew in with her father to ensure details were taken care of. It was well worth it; entry into such a world of wealth garnered many more ultra-deluxe clients who saw what the Fischers could do.
Over the past five years, Fischer-Rosenthal has been choreographing several such celebrations annually and each time they've grown larger and more spectacular. Even in 2009, during the recession, she took over the Villa San Michele, and the Conventina building at the Four Seasons in Florence for 150 people. Andrea Bocelli serenaded and a ballet company was flown in from France to perform. Fischer Travel staff worked with a professional party-planner to provide special welcome gifts for each attendee, as well as a series of creatively thought-out gifts each night at turndown.
In another instance, a prospective client wanted to plan a surprise party for her husband's 50th birthday. She was considering doing something in Napa but had no specific ideas. Fischer-Rosenthal and her team stepped in to create an elaborate program for them, arranging for Thomas Keller from the famed French Laundry to prepare dinner for them at a winery in a vineyard that's not open to the public. Other wow moments of the trip? An interactive wine-blending soiree where the guests also created their own wine labels—the bottles of their custom-crafted wine were then shipped home.
The following evening, Fischer-Rosenthal arranged a bash at a private club, Napa Valley Reserve, where the music was played by a band flown in from Los Angeles.
"The evening was a winner," says Fischer-Rosenthal, who admits such over-the-top, multi-evening events can take a toll. "When their plane left to take them home, we looked at each other and cried and hugged each other from exhaustion and happiness because we knew they were so happy."
An interesting dynamic arises when you work so closely with an individual, not just doing travel but handling celebration parties, anniversaries and gifts, says Fischer-Rosenthal. "You become very personal and very familiar with them," she says. "I have several clients that I really work closely with and manage their lives."
Such intimate service requires the staff to become marriage counselors to their clients, personal assistants, psychiatrists, sometimes private investigators and definitely babysitters, she adds.
In some cases, a client has more than one significant other, she says, "so it's managing which hotel and car company you use because they could be going to the same city with a different friend and they don't want to be seen walking into a hotel with a general manager who has met them several times before. So it's about establishing a comfort level; they are leaving all this in your hands and making sure that you get it right."
It gets more complex: "Sometimes there are three or four people in the mix who are coming and going and being met at the airport so you are using different greeter services. It's a challenge, but it's actually fun and it's wonderful that people are entrusting their lives to us."
Sometimes more mundane, but equally important, services are requested by clients. Just days prior to our visit with her, Fischer-Rosenthal had received a call from a senior travel manager whose Manhattan client needed to have a manicure and pedicure done at her home by 8:30 that evening. It was 4 p.m. on Super Bowl Sunday.
For Fischer-Rosenthal, finding the solution is like solving a puzzle. "We had to find out if the manicurist is available, is it a regular manicure or a glue manicure and what kind of polish is needed so we know what type of supplies the person is responsible for bringing."
In the end, it was Fischer-Rosenthal who ran out on that Sunday to secure the proper color nail polish to save time.
"It's all a collaboration. At the end of the day the client is happy and gets what they want. That's all we care about."
This type of request, especially those that come in after-hours and on weekends, commands a fee which is determined by what the person who is delivering the service charges, transportation costs, and additional service charge for Fischer Travel. The fee is presented to the client; once approved, they are billed for that amount.
Such requests are not considered an aberration. In fact, Fischer-Rosenthal wants the agency to be the first place where her clients seek this type a lifestyle service. "There are very few times that I think we can't do something," she says.
Lifestyle service requests often require a true learning curve when new consultants come to Fischer Travel. "There are e-mail exchanges all through the day with consultants coming in and saying, 'Okay I just got this request, how do I handle it?' There is always a solution. There is always somebody Bill and I or the senior travel staff will know. We all work together," says Fischer-Rosenthal.
And then there are the challenges on the travel side that VIP clients bring to the table. Recent efforts included finding seven first class seats on an alternate airline at 6 a.m. on New Year's morning for a family of seven, a feat that also included rearranging all of the greeters and drivers involved in each city.
Another centered on rescuing a client who took the wrong passport when he left on a trip to Brazil. Fischer-Rosenthal arranged for the mother of one of her travel consultants who lived in the same Ohio city to go to his house, get the proper passport and personally fly it to New York where the client was waiting. Another constant test is getting the uber-affluent family that always travels in jeans and flip flops no matter where they go into restaurants that require jackets and ties.
In many cases, the paparazzi is in constant pursuit of some of her celebrity clients so she has to have back up hotels lined up for them in case their location is leaked.
With such an intense dynamic always in play, the question begs to be asked, how does Fischer-Rosenthal stay so calm?
"We have a yoga instructor who comes into our office; I am a big fan of breathing," she says. "I think that really helps. When you walk around the office it can be so insane but we really do keep calm. It's the challenge that drives me and it's what makes everyday different. It's like being on a stage where you're always performing. It's about problem-solving and being creative and having the passion."
That Fischer-Rosenthal is a breast cancer survivor, having undergone multiple surgeries, chemotherapy, radiation and hair loss nine years ago, also puts things in perspective.
"I went through a really challenging time and that experience has made me think about life differently," she tells Luxury Travel Advisor. "Sometimes when I'm dealing with this clientele, if they don't get their hair done the way they want, their day is ruined. I am not here to judge them, but sometimes I think, 'Wow, these people have no idea what problems or what life experiences really are.'"
Life Balance
Fischer-Rosenthal has been married 18 years to her husband Richard. Together they have a son, Max, who is 16. "I am a working mother who tries to make the most of everything," says Fischer-Rosenthal. "I have breakfast with Max every morning and I go to most of his basketball games at school." She'll also leave work to go home for a family dinner and then return to the office or work late from home.
"It's a balance but I always try to be there," she says, noting that her husband and son "are incredibly supportive. They understand my clients and they understand how I care about my clients."
Because they live in Manhattan, the Rosenthals make it a point to enjoy the city as much as possible, eating out in fine-dining restaurants. While this is quality family time, it's also research, since a "huge portion" of Fischer-Rosenthal's business involves making dinner reservations for clients.
"Being able to understand when a restaurant opens if it's all hype, or if the food and the service are good is extremely important, as is making those connections with the maitre d's so that when we call they understand who is calling, and so that when we need a dinner reservation we can obtain it," she says.
The family travels for two weeks every March during Max's spring break and for a long trip during the summer. These sojourns are carefully mapped out since Fischer-Rosenthal works throughout the festive-season holidays, always on hand should her clients need her for anything.
And oh, do they need her. Fischer-Rosenthal's clients have the wealth and the wherewithal to decide at any point during a vacation that they want to pick up and go somewhere else. "If the weather is not great they have the flexibility of saying, 'Okay I am going to get on a plane…where else can I go?'" She received such a call recently while at her son's basketball game from a client who said the weather where they were was too windy and that their children were looking for a bit more nightlife.
Fischer-Rosenthal began working her BlackBerry only to have the client call back just a half hour later to find out if they could book their plane for take off.
That's where she had to draw the line. "I said, 'You need to just give me a little time. I have calls in now, it's Sunday, hopefully by the time I get home tonight I will have some answers for you.'" That evening she was able to present some options to the client and the next morning, she secured the top suites at a new destination for them.
Perhaps the most interesting part of the story is that the client actually belonged to another travel counselor in the office, who was on vacation. Fischer-Rosenthal is adamant that her agents have real time off during their breaks since the rest of the time they are on call 24×7. For that reason, she puts her name on the company's voicemail; calls that come in on a weekend or after-hours are forwarded to her cell phone. "We have people traveling all over the world so we're getting those calls all the time," she says.
Fischer-Rosenthal insists that the agency is as good as it is because of the staff it employs. "To be in this line of work you have to be so driven and so committed, you really have to have that passion," she says. For that reason, when she was recently named president of Fischer Travel, she made it a point to recognize three individuals who have those attributes. Dee Branciforte and Anne Ackerman have been promoted to vice president and will focus on agent management and office management. Jan Kelley has been promoted to vice president, business development, and will oversee the strategic growth of the company. Anne has been with Fischer Travel for 18 years, Dee for 17 years and Jan for 13 years.
Luxury Travel Trends
When asked how the luxury client has changed over the past few years, Fisher-Rosenthal says, "They are now much more interested in exploring the globe, traveling with family and learning through travel. And it's not enough to just have a presidential suite in the hotel, now they want their own private villas or own private islands like Musha or Necker Island." (Note: When Luxury Travel Advisor visited with them, the Fischers were excited to have just discovered a new private island: Calivigny Island in Grenada, whose presidential villa can accommodate up to 20.)
Larger accommodations have also become the trend as people travel with children, families, grandparents, security and technicians so that they can work remotely no matter where they are. "They always want to be in touch," says Fischer-Rosenthal. "Our clients really like four to five bedrooms under one roof."
While the clientele she services has an abundance of wealth, time is their most valuable commodity. "Every holiday is precious to them. Making the most of their time with their loved ones is paramount. That's why you really want to create experiences for them that they are going to remember," she says.
Today, the exclusive agency's phone number is still unlisted and it purposely does not have a website. The practice of charging for services and to be a member of the Fischer Travel fold is still a thriving strategy.
Fischer-Rosenthal says she always had strong faith in her father's way of conducting business, even when it was quite unconventional.
"He did it his way; he was always a visionary and always knew this was the path to take," she says proudly. "He took such great steps way before people were charging for tickets and charging for their time. He always viewed himself as a professional—like a doctor or a lawyer."
There's no doubt she'll carry on that mantra as she takes the company forward. "Today I am president of Fischer Travel and it's an honor to be the ambassador of the company that my father built," she says. "Looking back 28 years, I can say that when you work hard and have a passion for something you believe in, you can make it happen."