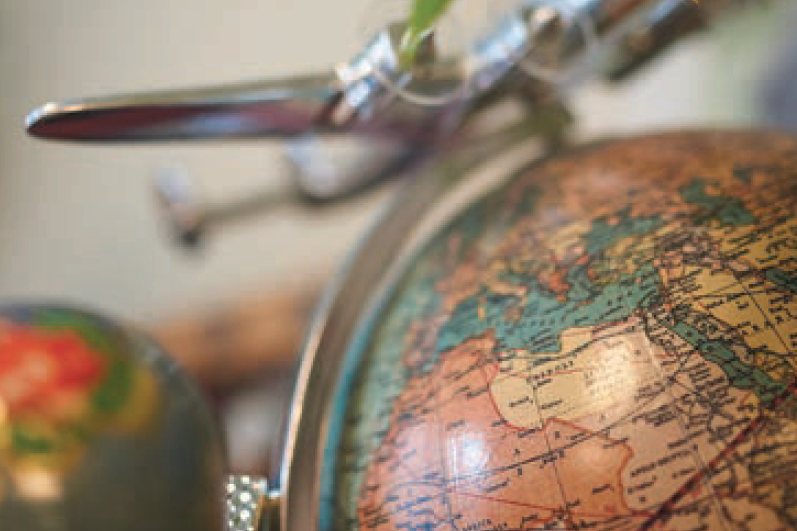 What do you get for someone who has everything? The answer could well be a membership with Fischer Travel.  
That's because Fischer Travel, led by the father-daughter duo Bill Fischer and Stacy Fischer-Rosenthal, has redefined what a luxury travel agency is all about. By becoming a lifestyle company for some of the wealthiest people in the world, they cater to Hollywood celebrities, international business tycoons and New York City's "mover and shakers."  
"Fischer Travel is similar to Hermès or Louis Vuitton—it's a lifestyle brand," Stacy explains. "It's about being able to obtain the unobtainable for our client no matter what their request is… as long as it's legal."  
" WE LEARNED ABOUT IDB FROM A CLIENT AND STARTED WORKING WITH THEM SIX YEARS AGO. WE FOUND OUT THEY'RE LIKE US—IT'S ALL ABOUT BUILDING RELATIONSHIPS. THEY UNDERSTAND HOW WE DO BUSINESS AND HOW IMPORTANT IT IS TO PROVIDE EXCELLENT PERSONAL SERVICE." 
 Case in point: "A client's father, who was a successful boxer in his youth, was turning 80," says Stacy. "We arranged for Don King to come to the birthday party, all in the space of a couple of days—tracking down Don King, negotiating his appearance, and coordinating the event. When our client and his father returned to their hotel after the event, we already had pictures from the birthday party in their suite."   
Revolutionizing luxury travel  
"We get our clients anything they want or need—of course there is a fee, but they are happy to pay because we always deliver," Bill explains. Because the service is so personal and based on relationships, the agency doesn't even have a website. "A website for our clients is totally irrelevant," says Stacy. "Our clients have our home and mobile phone numbers. We're always reachable."  
When Bill began charging a membership fee 15 years ago, he justified it by providing service and access that other travel agencies couldn't offer. The fee started at $5,000, quickly went to $10,000 and has risen over the years. The fee to become a client is currently $100,000 with a $25,000 annual fee to maintain the membership.  
"People thought I was crazy and that our clients would leave us," says Bill, who started the business 50 years ago. "But if you had to have a specific suite in a specific hotel, I was the only one who could get it. It wasn't, 'let's try to get you an upgrade.' It was, 'tell me what you want and we'll get it.'"  
What's the secret to their success? "We don't take no for an answer," Bill says, matter-of-factly. "And we're passionate about what we do," adds Stacy. "We want our clients to say, 'We can't get along without you!'"  
Bill recalled one of his favorite success stories. "Years ago, a client wanted to get into a particular ski resort in Europe during Christmas week. When I called, the reservations manager told me that more than 30 people were on the waiting list. So every day for two months, I very nicely called her twice a day. She soon admitted that she talked to me more than her husband. I got my client into the resort. Hotels really like to deal with us because they know we truly care about our clients and they know those clients will be wonderful guests!"  
"One client wanted tickets to a Justin Bieber concert for his daughter—and a picture of her taken with the star. We got it done," says Stacy, who joined the business right out of college 34 years ago after studying—what else?—travel and tourism.  
We don't give up 
It's about being on call 24/7 and knowing as much as possible about the clients and their families, "so we can anticipate their needs, be fun and creative, and delight them with recommendations that are outside the box," Stacy says. "We deal with incredibly wealthy and powerful people who have high expectations. Every day we are faced with different creative challenges and hard deadlines."  
Even for a relatively routine business trip, it means organizing VIP airport greeters, making group dinner reservations, arranging décor in a suite or even ensuring that a particular bottled water or snack is placed in their hotel room.  "To protect the privacy of our clients, we make sure the hotel has all necessary details in advance of an arrival so they don't have to stop at a reception desk; they go right to the room. It's all arranged," says Stacy.  
"I have so much respect for the business my father created," says Stacy. "Of course, as the boss's daughter, I had trepidations when I first started. I knew I had to work twice as hard, but he has always been such an inspiration, and he has allowed me add to our success." 
Adds Bill, "We share each other's happiness and we help each other when there is a problem." That also goes for the staff and management team of 30 people, many of whom have been with the firm for more than 20 years.  
"My father is a visionary in this field, and he always viewed himself as a professional with expertise—like a doctor or a lawyer," Stacy says with pride. "Today, it's an honor to be CEO and an ambassador of the company he built." She adds: "I've learned that when you work hard and have a passion for something you believe in, you can make anything happen."  
" We don't take no for an answer, and we're passionate about what we do… We want our clients to say, 'We can't get along without you!'"