Fischer and Sparkle.
One is the daughter of the keynoter at the inaugural International Luxury Travel Market (ILTM), launched in Cannes exactly two decades ago. The other gave herself the same nickname as the lead character in the 1976 film "Sparkle."
Stacy Fischer-Rosenthal, president of Fischer Travel Enterprises and daughter of CEO and founder Bill Fischer, has been attending ILTM for a decade; Nadia "Sparkle" Henry, founder of Travel With Sparkle, attended her first one this week.
The two have in common a passion for selling luxury travel. I followed each on successive days at the hosted buyer show last week and saw what could be viewed as a shared experience, one seen through the eyes of a person raised in the world of luxury travel sales, the other who entered it as a second career.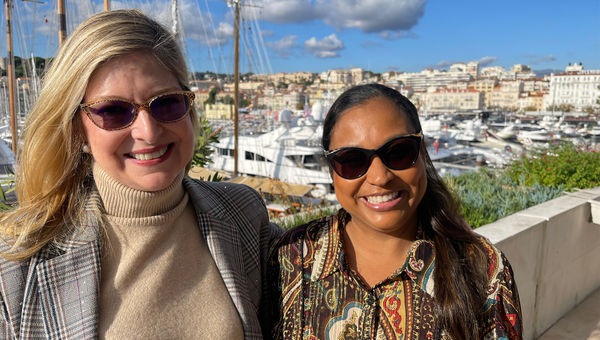 Stacy Fischer-Rosenthal, left, of Fischer Travel Enterprises and Nadia "Sparkle" Henry of Travel With Sparkle. Photo Credit: TW photo by Arnie Weissmann
Stacy Fischer-Rosenthal
After giving Fischer-Rosenthal a double-cheek kiss, Joel Freyberg, vice president of the Doyle Collection North America and managing director of the Dupont Circle Hotel, turned to me. "She's the best," he said. "I want to come back next life as a Fischer Travel advisor."
"And I want to come back as a Fischer Travel client," Fischer-Rosenthal responded.
When she first attended the show a decade ago, "people would say, 'Oh my God, you're his daughter,'" she said. "How lucky was I? My father paved the way for me. I love my dad. But I am not my father."
Fischer-Rosenthal wore a jacket that proclaimed, in bold letters on the back, "Making the impossible possible."
"My husband gave it to me," she said. "This is something my father would wear. For me …" she scrunched her face. "I thought, 'OK, ILTM is the one place I can wear it.'"
Bill Fischer is a showman and leans into his role as the King of Luxury Travel. When I walked the floor with him at ILTM in 2003, suppliers were practically kissing his ring when they approached him. If he knew their product didn't meet his standards, he'd dismiss them, sometimes with a curt, imperious brushoff.
In this way, also, Fischer-Rosenthal is not her father. "I don't want to waste anyone's time, but I'm much more diplomatic. Humble, may I say."
She is nonetheless courted. As we approached the stand for the Maybourne Hotel Group, a swarm of five executives formed a semicircle around her. She had recently stayed at the Berkeley, had brunch at Claridge's and cocktails at the Connaught, and they were eager to hear her impressions.
She gave detailed feedback, impressed with the top suites at the Connaught as well as the bakery selling chocolate chip cookies for 25 pounds sterling at the Berkeley.
I spoke to Bill on the phone shortly afterward.
Proud father, he said, "She knows the business. We just raised our initiation fee to $150,000 and have a $25,000 annual retainer. Our clients will pay anything for what they want, when they want it. And we can satisfy them."
Nadia 'Sparkle' Henry
Fischer-Rosenthal was often meeting with old friends; Henry was making new ones.
Her first career had been as an ophthalmic nurse. She found that she enjoyed planning her family's travels and began selling travel part time in 2007. By 2011, she was doing well enough that she decided to go full time.
Her boutique agency caters to actors and recording artists. A friend, Michael Bivins, was a singer in the band New Edition. When he became the group's producer, he hired Henry to be a stylist, and she chose outfits for band members to wear in videos. When she decided to sell luxury travel, she had already established connections to some big-name artists and expanded her celebrity business on word-of-mouth from satisfied clients.
She saw ILTM as a means to expand her product knowledge.
"My love is escorting small groups to destinations they've never been to," she said. And she had never been to her first stop of the day, the destination marketing organization for St. Moritz, Switzerland. The unfamiliarity of the destination, she said, "is why I picked it."
But she also scheduled time with properties she didn't know in locations where she already does a lot of business. From St. Moritz, we went to Villa Resorts, which has properties in the Maldives.
She first wanted to establish that they had overwater bungalows. Although she prefers beachside villas, "everyone saw overwater bungalows on Instagram when they were locked down during the pandemic," so first-timers want to go there.
Upon her departure from the booth, she was handed a can of the room spray used in their resorts. "That's great," she said. "Clients tell me what type of room scent they want." She gave it a spray, a sniff, and nodded her approval.
As we walked away, I asked her what she thought of ILTM. "This," she said, "is my show."
Click here to read the article online
When Arnie approached Stacy for this feature:
"If you'll be attending ILTM, I have an idea that I think will make for a fun column. Nineteen years ago, your father was one of two people I "shadowed" at ILTM 2003. If you're up for it, I'd like to shadow you this year. Here's the story I wrote 19 year ago: Living large, selling high at Cannes travel show: Travel Weekly"